MENTORING'S IMPACT AND INNOVATION


April 2017
Mentoring in Real Life - First Light Project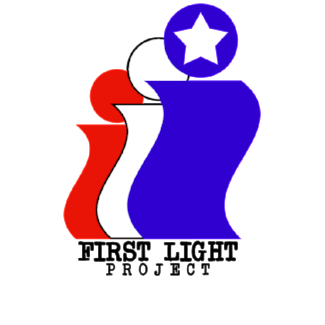 First Light Project is a new and innovative violence prevention program that launched in the fall 2016 out of the Boys & Girls Club in Stamford, Connecticut. Its founder is Marlene Wilden. The 10-week pilot mentoring program pairs experienced military veterans with at-risk youth. First Light allows for a shared dialogue built on a mutual understanding of trauma and perseverance. Stories shared often shed light on the complex challenges faced by both populations, including that of toxic-stress and even Post-Traumatic Stress. The goal is to build safe, supportive and non-judgmental relationships of mutual benefit. This is a curriculum-based program that pairs two distinctly different groups of individuals (youth and veterans) in a shared and leveled environment in which both can learn and grow from one another.
First Light Project is a cause near and dear to the heart of its founder.  As a spouse of a post-9/11 combat veteran, Marlene Wilden has come to learn that peace takes commitment.  During their marriage, she has seen her husband go to war, come back, go again, and luckily, be able to come home again for good. On June 15, 2016, she wrote "We are confident our veterans are holding an essential key to unlocking a more peaceful and harmonious environment in our local community.  We are also very hopeful veterans will find benefit from giving back, knowing they've done something positive for our youth and our neighborhood.  It is our personal belief there is nothing more powerful than being able to shape and improve the experiences for our next generation, all while being able to provide an opportunity for our veterans to find a new sense of purpose in life outside the war zone they've recently left behind." 
Mentors are recruited from Post-9/11 and Gulf War veterans and a partnership with the Connecticut Team Leader for Iraq & Afghanistan Veterans of America. First Light Project expects to expand for fall 2017 and will include all types of First Responders such as police officers, deputy sheriffs, firefighters, paramedics, and rescuers in addition to those who had prior military experience. The program works with Sean Boeger, President of the Stamford Police Association.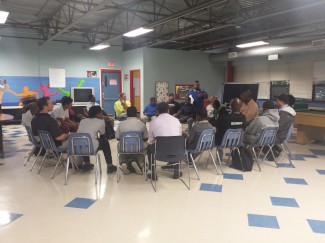 The last cycle of the initiative had 10 volunteer veterans matched with 16 youth.  There will be a similar group for the upcoming cycle. The teens and veterans meet once a week for two hours for the duration of the program. They get to know each other through team building activities and then move into facilitated discussions of how violence has affected their lives. Sometimes there are activities that call for smaller configurations of groups of two to three but then afterwards they come together as the larger group to share outcomes or thoughts about the experience. The pilot program cycle took place at the Boys & Girls Club in Stamford.  It hopes to expand operations to also include students serviced by DOMUS in the future.
According to Wilden, during the first cycle there was a noticeable improvement in the youths' attitudes towards guns in that they were less apt to find guns to be intrinsically exciting, stimulating, and fun. Veteran mentors found meaning in giving back to their community, knowing they have done something positive for the youth that are served in the program and the neighborhood. The mentors were able to meet other veterans and bond over a shared experience close to home.
First Light Project has consulted with Centers for Disease Control and Prevention, National Center for Injury Prevention and Control's Compendium of Assessment Tools for Measuring Violence-Related Attitudes, Behaviors, and Influences Among Youths. The Centers have outlined a number of great instruments that are used to evaluate violence prevention programs.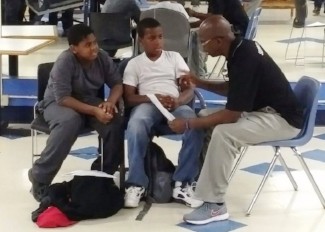 When building the program, the six core standards of the Elements of Effective Practice were followed. In particular, First Light Project does do everything it can to foster healthy and reliable relationships. The Screening and Training Benchmarks are essential to the process as well as Monitoring and Support and Closure.
 When interviewed for this spotlight, Wilden commented that "We are excited to be scaling up for a second cycle that will include even more youth in our community. The ultimate goal is to get this program up and running in Stamford in an on-going basis. I've also had inquiries about how to launch programs like ours in other neighborhoods. It would be terrific to reach as many youth and first responders as we can."
And why does the program work? According to Wilden, "The foundation of this program is built on the idea that violence can be reduced by allowing our youth and veterans the opportunity to learn how to process trauma. Discussing the impact of violence has the potential to positively modify how one would behave at home, react at school, and ultimately, encourage the deterrence of acts of violence in all venues in the community. But, most importantly, mentoring relationships are important because they are often critical assets in young people's ability to thrive and strive."
Congratulations to Marlene Wilden, the mentors and youth involved in the pilot First Light Project and their plans to expand this important and valuable program going forward.