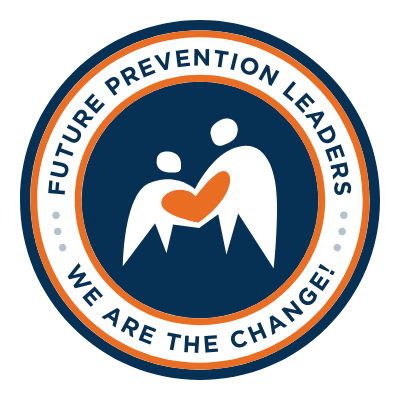 FUTURE PREVENTION LEADERS
We Are the Change!
Are you entering high school, currently in high school, or graduated high school with the class of '22?
If so, you are invited to a gathering of today's young people that will create the future of prevention and wellness!
Future Prevention Leaders
Youth Conference
Thursday, June 23, 2022
9:00 a.m. - 3:00 p.m.
Goodwin University
1 Riverside Dr. East Hartford CT 06118 US
$50 per group of five young adults and one adult advisor (scholarships are available).
At the First-Ever Future Prevention Leaders conference, you will:
Befriend like-minded high school students from all across Connecticut.
Attend leadership workshops to take your change-making skills to new heights. 
Connect with key players in Connecticut prevention work and begin building your professional network.
Hang out with a therapy dog while eating good food.
Become current on cutting edge in prevention strategies, and have a BLAST doing it!
The day's breakout sessions will leave you feeling educated and fired up to create the world you want to see.
You can attend sessions on:
Mental Health and Wellness
Problem Gambling Awareness
Substance Misuse
Leadership Development
Much more! Read down for descriptions of all the sessions!
Are you ready to be one of the first people to experience the new Future Prevention Leader's Conference?
Read the important information on the page linked below, then Register Today!

Agenda
| | |
| --- | --- |
| Time | Activity |
| 8:30 a.m. - 9:00 a.m. | Registration |
| 9:00 a.m. - 9:45 a.m. | Welcome, Opening Speakers, Keynote Speaker |
| 10:00 a.m. - 10:45 a.m. | Breakout Session #1 |
| 11:00 a.m. - 11:45 a.m. | Breakout Session #2 |
| 12:00 p.m. - 1:15 p.m. | Lunch, Networking, FUN! |
| 1:30 p.m. - 2:15 p.m. | Breakout Session #3 |
| 2:30 p.m. - 3:00 p.m. | Closing Comments |

Breakout Sessions #1
10 Types of Dreams Workshop
Presented By: Matthew Rivera, Executive Director, The Dream Support Network
★ Live the life of your dreams! ★
Full Description: The 10 Types of Dreams Workshop emerged from our unique research model of asking people what their dreams are in exchange for ice cream. In this workshop, we will engage the participants in a discussion on the broad scope of dream chasing ranging from the personal improvement dream to the adventure dream. We believe that dreams give our life direction and as we continue to speak about and visualize them, we grow closer to making them a reality. As participants share their dreams, we will conclude the workshop with a conversation on The Dream Chasing Process, the steps we believe one should take to work towards living the life of their dreams.
Mental Health and Prevention in the Sports World
Moderated By: Melvin Wells, III, Research Assistant, The Consultation Center at Yale /  New Haven Prevention Council 
★ Hear insights, tips, and strategies from professional coaches and players on how to remain physically and mentally fit while managing the unique challenges athletes face at all levels of play. ★
Full Description: This panel session will provide insights from multiple perspectives from the sports world from high school to professional level play. The discussion will focus on the importance of mental health in sports, strategies to stay healthy during the season and off-season, the realities of team-related peer pressure related to substance use and risky behaviors, and suggestions on mitigating its influence. Emphasis will be on the unique world of sports play, the role athletes play in their school communities, and how to be a constant positive influence in that community.
Taking Control of Your Dreams with Youth-Initiated Mentoring
Presented By: Jo Hawke and Aristede Hill, The Governor's Prevention Partnership
★ Who can help us reach our goals and how can we engage them in our journey? ★
Full Description: This interactive session will explore how young people can use youth-initiated mentoring to build social capital, become a mentor-magnet, and expand their social networks. (Capacity limit: 35)
Good Medicine: Culturally Responsive Prevention
Presented By: Scott Barton, Director, Skeehch Wuyeekun (Good Medicine) Project, MPTN
★ Culture is prevention! Learn how to infuse culture in your programs. ★
Full Description: This session will discuss the protective factors in the indigenous culture and how the Mashantucket Pequot Tribal Nations Good Medicine Project is having a positive impact on their community.
Breakout Sessions #2
Drumming for Wellness
Presented by: Jona Jeffcoat, MT-BC, Board Certified Music Therapist, Director of Services, Infinity Music Therapy Services 
★ Join in our conference drumming circle and explore the potential benefits of music on mental health and physical well-being. ★
Full Description: The act of drumming within a community provides a number of excellent health benefits and positive impacts on blood pressure, respiration, mental health, and more. Music-making can provide opportunities for self-awareness and self-reflection. During this highly experiential workshop led by a board-certified music therapist, we will drum and chant together, discuss the field of music therapy and its benefits, and explore the potential benefits of music on mental health and physical well-being. No music experience is required, and instruments will be provided.
Gambling: A Game of Skill or Chance?
Presented by: 
Kelly Leppard, CPS, Primary Prevention Services Coordinator, Department of Mental Health and Addiction Services, Problem Gambling Services 
Kaitlin Brown, LPC, LADC, ICGC II, IGDC, BACC, Director of Programs & Services, Connecticut Council on Problem Gambling
Jeremy Wampler, LCSW, ICGC-II, BACC, LADC, Department of Mental Health and Addiction Services, Director of Problem Gambling Services
Fiorigio (Fred) Fetta, LPC, ICGC-II, BACC, CGT, AADC, Department of Mental Health and Addiction Services, Associate Professional Counselor
★ What are the impacts of gambling on today's youth population? ★
Full Description: Do you know the difference between games of skill and games of chance? This workshop will provide interactive opportunities to define what is gambling, understand how gambling metrics work, identify risk and protective factors, and discuss ways to develop an overall awareness of the impacts gambling can have on youth.  Participants will be given a chance to collaborate on ideas to implement initiatives in their school and community to reduce the potential harm.
Partnering with Police in Prevention
Presented by: Deborah Lake, MA, Director of Program Planning and Implementation, The Governor's Prevention Partnership
★ You can leverage local partnerships to make an impact in your community! ★
Full Description: Join our interactive session highlighting all the ways in which YOU and your local law enforcement can work together to make a positive impact in your community. Officers from a couple of departments will share their perspectives around prevention work, how YOU can build relationships with each other in your local community, and the many ways in which the partnership can increase community participation in prevention. We will also have several young people presenting who work with law enforcement on compliance checks, they will share their insights and experience. Working in enforcement is a great way to do a service to your community, get job experience, and build your network for the future!
★ This session is sponsored by Eversource! ★
Breaking the Stigma of Mental Illness
Presented by: 
Kelley Edwards, MS, CPS, Behavioral Health Program Manager, CT Department of Mental Health & Addiction Services
Courtney Vause, Youth Peer Advocate, Morgan REACT (Clinton)
★ Gain insights to the importance of mental health and a deeper understanding of how we are all affected by mental illness. ★
Full Description: This session will include interactive activities to help participants understand how we are all affected by mental illness and how important mental health is.  Participants will have the chance to respond to questions designed to help them gain comfort in talking about one's mental health and the forces that create stigma. (Capacity limit: 15)
Breakout Sessions #3
The Magic of Therapy Dogs:  What Makes Them So Special?
Presented by: 
Jean Baur, Speaker, Author, Career Coach, Therapy Dog Handler
Rudy, Therapy Dog ~extraordinaire~  
★ What does it take to become a therapy dog? What do they do? Join us to find the answers to these questions and more. ★
Full Description: With Rudy at my side, I will talk about what it takes for a dog to become certified as a therapy dog and what kinds of work they do. Rudy has helped Special Education students, supported young people who have had to testify in court, and regularly visits two hospitals where we always go to the crisis center and psychiatric ward.
Using Youth Empowerment to Prevent Substance Use
Presented by: Sydney Hussett, BSc, MPH Candidate at Yale School of Public Health 
★ Using youth empowerment to prevent substance use among Black girls. ★
Full Description: During this session, we will explore how to use community-based participatory research as a tool to empower Black girls by targeting ethnic identity, self-esteem, gender identity, and partner communication. We will discuss the Dreamer Girls Project, a community-based participatory research project focused on developing a culturally relevant HIV and substance use prevention program for Black girls. This project is being led by Dr. Ijeoma Opara in the Substances and Sexual Health Lab. Additionally, we will discuss how empowering Black girls can be an effective component of a substance use prevention program. 
Prevention Jeopardy
Presented by: Youth Advisory Board, The Governor's Prevention Partnership
★ Put your game hat on and join us for a group game of Jeopardy - prevention style! ★
Full Description: Do you think you have what it takes? Have fun with your fellow conference teammates and test your group knowledge of key components in the prevention world. Participants will require an active cell phone or personal electronic device to log into the game.
Top 5 Tips for Making a Lasting Impression
Presented by: Ann Baldwin, President, Baldwin Media Marketing and former anchor/reporter for CT NBC-30 News and radio talk show host for WTIC-AM
★ Bring your presentation skills to the next level. ★
Full Description: This interactive session will be focused to provide the participants with the skills and tips necessary to make a good impression.  Regardless of the setting, you are in we will focus on the do's and don'ts when presenting yourself.  There will also be a short interactive engagement piece in which students will be asked to put their knowledge to the test!

If you are ready to join the excitement, read the important information on the page linked below, then Register Today!
---
Future Prevention Leaders Sponsored by: