MENTORING MONTH IN CONNECTICUT
As we celebrate National Mentoring Month, it's important to recognize the unique challenges that COVID-19 has brought to our youth. Across the country, young people are struggling with anxiety, distress, and the destabilization caused by the pandemic. It's a recipe for increased risk of substance abuse and underage drinking. But in times like these, we have the power to make a difference through mentorship.
As many as one in three children in Connecticut could benefit from the guidance and support of a mentor, especially in underserved communities. That's why we are proud to provide resources to programs looking to recruit new mentors, including assets created by our own organization as well as those provided by our national affiliate, MENTOR: The National Mentoring Partnership.
Let's use National Mentoring Month as an opportunity to come together and support the young people in our communities. Whether you're a mentor or an organization looking for mentors, there are resources available to help make a positive impact in the lives of our youth. Together, we can weather this storm and emerge stronger than ever.
---
MENTORING RECRUITMENT RESOURCES
SOCIAL MEDIA
Below are some tiles created by our national affiliate MENTOR: The National Mentoring Partnership, highlighting some of the key dates of National Mentoring Month. Feel free to use these tiles, along with the suggested copy, across your social platforms.  
Suggested Hashtags:
#MentoringMonth
#MentoringAmplifies
#PreventionWorksCT
Mentoring Month Social Tiles
MENTORING VIDEOS
Feel free to post these videos on your social platforms to help recruit more mentors! The need has never been greater, and these videos can help you engage your audience and emphasize the difference that having a mentor makes.
---
NATIONAL MENTORING SUMMIT
January 25 – 27, 2023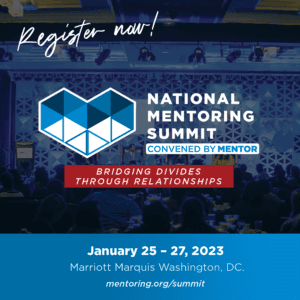 Our national affiliate, MENTOR: The National Mentoring Partnership, is hosting its 13th annual summit this month!  The event will take place simultaneously at the Marriot Marquis Washington, DC, and online.
"Taking the time to be intentional about the relationships we form with one another is a necessary step in the road to a more connected, equitable world. If you're interested in exploring this idea with passionate, innovative people from across the mentoring movement, register for the 2023 National Mentoring Summit! Don't miss out on this exciting opportunity to learn from experts in the field, participate in engaging workshops, network with peers, and celebrate the power of relationships! For more details, visit www.mentoring.org/summit"

---
OTHER HELPFUL LINKS