Alcohol Delivery Dangers: How Major Convenience Creates New Risks for Minors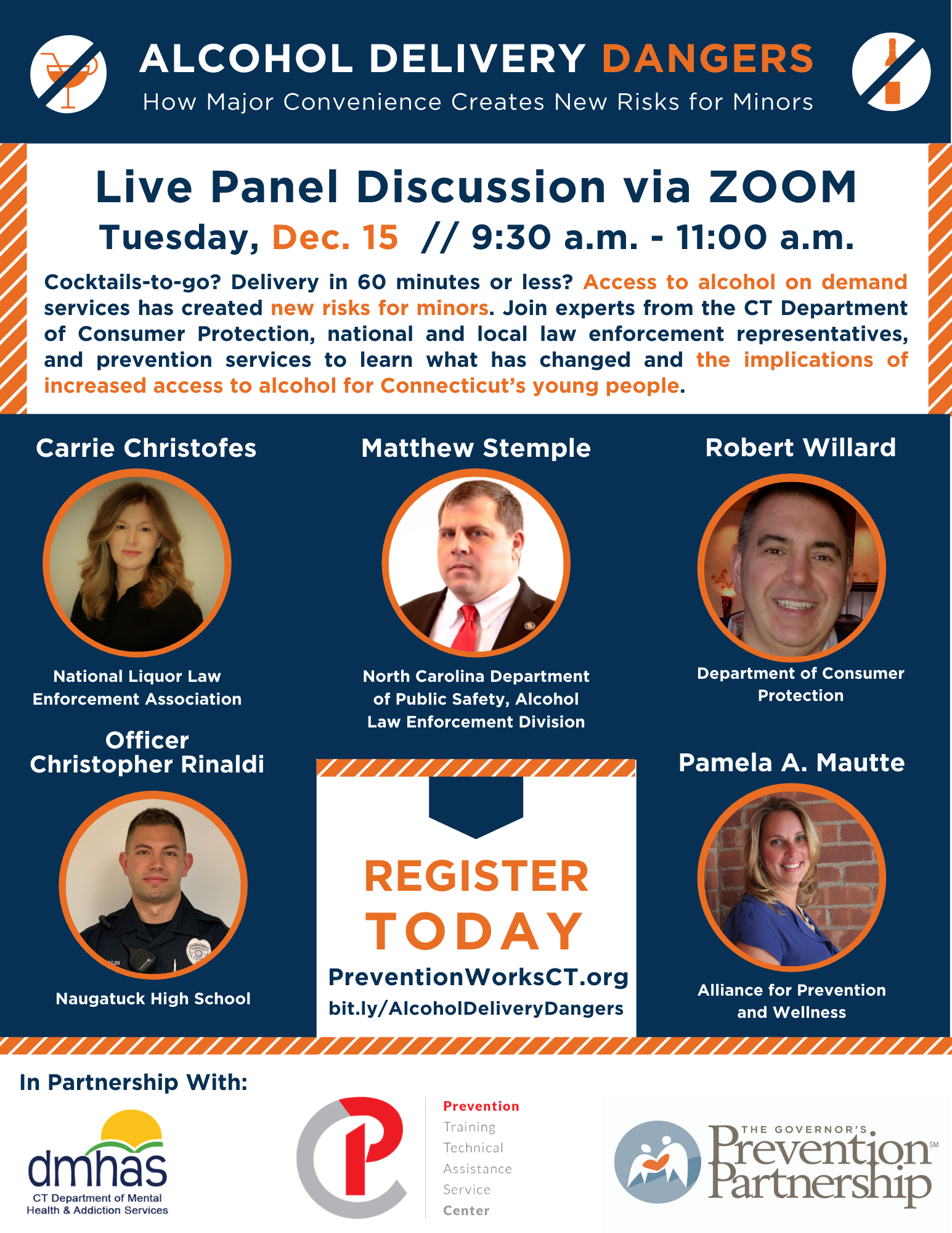 Alcohol Delivery Dangers: How Major Convenience Creates New Risks for Minors
Cocktails-to-go. Delivery in 60 minutes or less. Access to alcohol on demand services has changed over the past year due to the pandemic. Join experts from the CT Department of Consumer Protection, national and local law enforcement representatives, and prevention services to learn what has changed and the implications of increased access to alcohol for Connecticut's young people.
The goals of this discussion are to provide law enforcement, prevention service providers, community members, and parents with information about the current landscape of alcohol regulations and learn what is happening in local communities and what is needed.
We will focus on:
Increase awareness of direct to consumer marketing/home delivery of alcohol in CT
Discuss the implications of increased access to youth
Explore how minors in compliance checks operations shift to include home delivery services
Please join us to hear from the following experts:
Carrie Christofes, National Liquor Law Enforcement Association. Carrie spoke at the National Prevention Network conference in August and at the NE Prevention Technology Transfer Center (PTTC) in September.
Matthew Stemple, Assistant Special Agent in Charge North Carolina Department of Public Safety Alcohol Law Enforcement Division. Assistant Special Agent Stemple has conducted Minors in Compliance Check home delivery operations.
Robert Willard, Supervising Liquor Control Agent, Department of Consumer Protection.
Pam Mautte, Director, Alliance for Prevention and Wellness, Regional Behavioral Health Action Organization (RBHAO).
Officer Christopher Rinaldi, School Resource Officer, Naugatuck High School.
Sponsors:
The Governor's Prevention Partnership
Training and Technical Assistance Service Center (TTASC)
Connecticut State Department of Mental Health and Addiction Services (DMHAS)
Recording Notice
This event will be recorded for hosting on our website and potential further use. By registering for this webinar, you are consenting to be included in this webinar recording.