Mentoring Trainings for Youth Service Bureaus and Juvenile Review Boards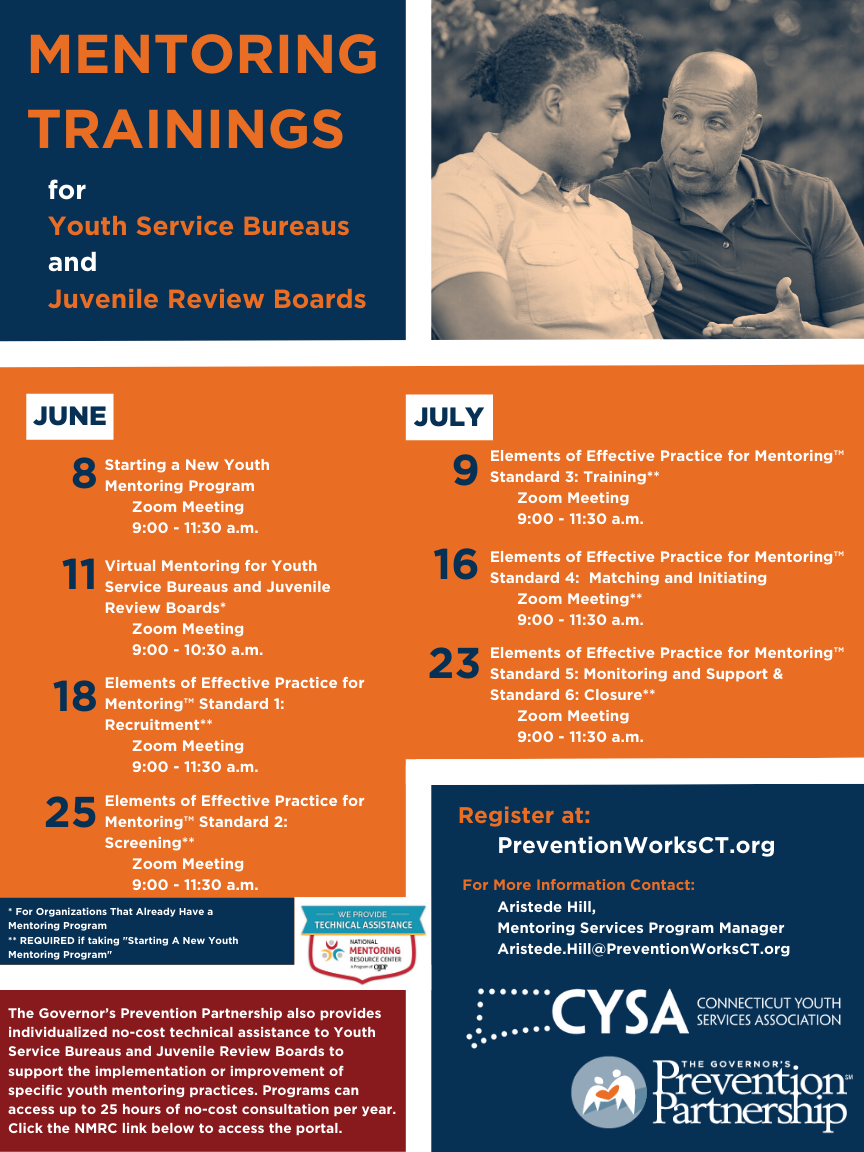 Register For These Trainings Now!
Please join us for this mentoring training series for Youth Service Bureaus.
Many organizations like yours have recognized the value in youth mentoring as a prevention strategy, and over twelve thousand children across the state have benefited from their participation in mentoring programs. But what distinguishes a mentoring program from other youth programs, and what exactly is involved in launching one? If you are starting and building a high-quality, effective youth mentoring program to meet the needs of young people, this training opportunity is for you!
Learning Objectives:
Describe the purposes of designing and planning a sustainable mentoring program.
Design a responsive and performance-based youth mentoring program.
Identify a mentoring program model most suitable for their organization.
Develop and manage strategies for screening, recruiting, training, matching, and monitoring the youth and their relationship.
Incorporate the MENTOR/National Mentoring Partnership's Elements of Effective Practice in an interactive learning environment.
Apply resource materials for mentor program development and volunteer management.
Zoom information will be emailed to interested Youth Service Bureaus prior to each training. Please register for technical assistance with the National Mentoring Resouce Center before registering for this series.
Seeking Technical Assistance:
The Governor's Prevention Partnership provides individualized no-cost technical assistance to Youth Service Bureaus and Juvenile Review Boards to support the implementation or improvement of specific youth mentoring practices. Programs can access up to
25 hours of no-cost consultation
per year.
To access technical assistance, simply submit your request through the National Mentoring Resource Center portal. You'll be asked to set up a username and password and then respond to a few questions that gather information on the scope of your program and the type of support you're requesting. Once your request is reviewed by our national affiliate MENTOR/National Mentoring Partnership, it will be assigned to our office and we'll be able to support your program.


Click on the option that best represents you to register: