Putting Intersectionality into Mentoring Practice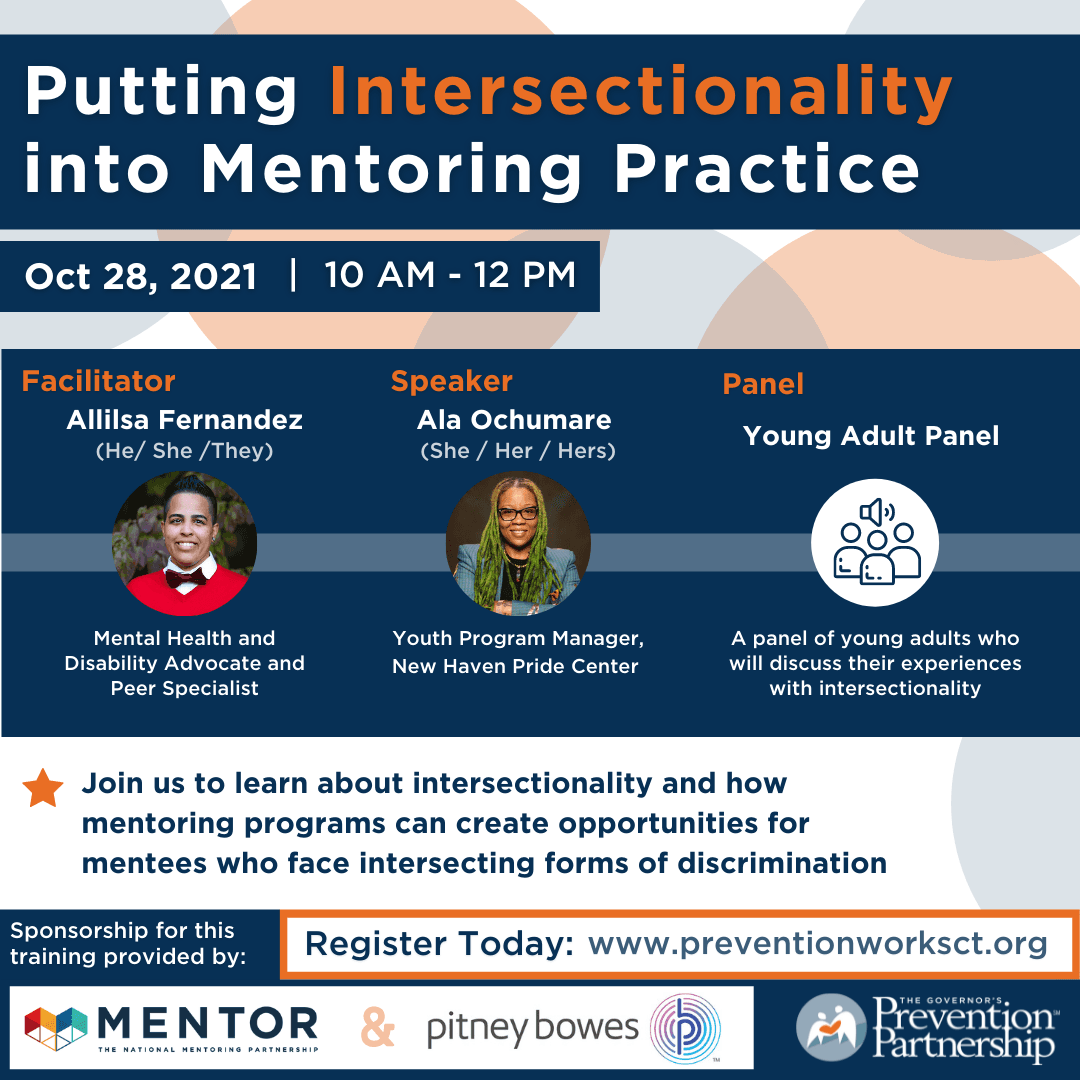 About This Session
This session will define intersectionality and a panel of young adults will discuss their experiences with intersectionality and how mentoring programs can create opportunities for mentees and communities who face multiple and intersecting forms of discrimination through mentoring policies and procedures, training, and collaborations with organizations that serve diverse groups. This presentation will address multiple types of diversity, including disability, LGBTQIA+, socioeconomic status, gender, and race. As part of this training, we will present a tip sheet on intersectionality skills for mentors and mentoring providers.
Session Facilitator
Allilsa Fernandez (he/she /they), Mental Health and Disability Advocate and Peer Specialist
Guest Speaker
Ala Ochumare (she /her), Youth Program Manager, New Haven Pride Center
Youth Panel
This session will feature a panel of young people who will discuss their experiences with intersectionality.
Liliana Valvano (she/her), Community Organizer and Author
Fanisee Bias (she/her), Youth Activist and Organizer
Nick Lee McCauley (he/his), Founder, The Cultural Reset
Satya Varghese Mac (she/they), Artist and Activist
August Nopoulos (they/theirs), Activist
Sponsorship
The Partnership extends gratitude to MENTOR, The National Mentoring Partnership, and Pitney Bowes for sponsoring this training.
Recording Notice
This event will be recorded for hosting on our website and potential further use. By registering for this webinar, you are consenting to be included in this webinar recording.