Future Prevention Leaders 2023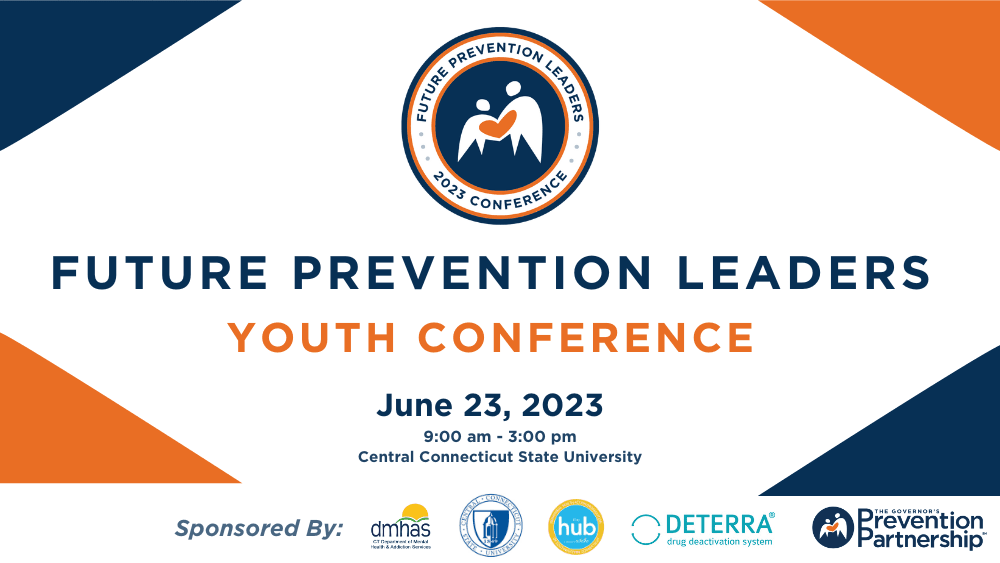 ATTENTION HIGH SCHOOL STUDENTS, RISING 9th GRADERS, & 2023 GRADUATES
CHANGE BEGINS WITH YOUth!
You are invited to a gathering of the young people today who will create tomorrow's future of prevention and wellness!
This full-day event is designed for high school-aged leaders from Connecticut. Empower yourself through networking, learning, and camaraderie with like-minded peers in a stimulating and interactive environment!
Explore cutting-edge substance use prevention strategies
Discover rewarding prevention career pathways
Develop essential coping skills, mental health awareness, and youth leadership skills
Learn from seasoned experts in the prevention field
Ignite your passion for prevention while unlocking your full potential at this dynamic conference!
Conference Guidelines
Each youth must attend the conference with an adult, and adults must stay at the conference for the entirety of the event. All youth and adult advisors must register in advance for the conference.
Advisors are responsible for the transportation, safety, and supervision of youth during the conference. We ask that advisors maintain no more than a 1:15 adult-to-youth ratio.
Advisors will complete registration and payment by credit card or check.
Youth names and email addresses are needed at the time of registration.
Once registration is submitted, a confirmation email will be sent to the advisor and all registered participants. The confirmation email will contain:
Link to Breakout/Lunch selection to be sent in early May.
Youth must have a completed consent and media form prior to the day of the conference. Paper forms are available upon request. Each advisor and youth participant will individually complete the Conference Information form.
The conference fee is $30 per person for youth and advisors. This includes all conference activities, lunch, and snacks throughout the day.
Scholarships are available for individual students. Please contact Jessica White (Jessica@preventionworksct.org) for a scholarship application.
Early Bird Group Discount is $125 for 5 tickets. Early bird rates end on May 22.
Payments can be made via debit card, credit card, or organizational check. Payments must be received no later than June 15.