---
School Attendance
---
Students are returning to the classroom for the 2022-23 school year. With a three-fold increase in chronic absenteeism compared to pre-pandemic levels, it has never been more critical that students attend each class and that schools adopt strategies to promote attendance. Bolstering attendance takes commitment, collaboration, and tailored approaches to the challenges and strengths of each school community.
In collaboration with Attendance Works and the Connecticut State Department of Education, the Governor's Prevention Partnership will provide tools for organizations, mentors, parents, and other caring adults to combat chronic absenteeism. We will update this site regularly to reflect best practices for promoting attendance as they emerge.
---
Help Your Child Succeed - Bilingual Toolkit
---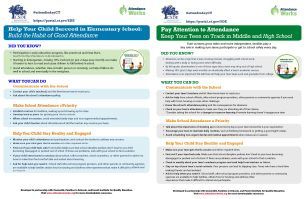 The Help Your Child Succeed toolkit, contains information on how to build good attendance habits and monitor attendance for students of all ages. The information is available in both English and Spanish. 
---
Tips for Reducing Chronic Absence
---
---
Promote Attendance on Social Media
---
Find below a collection of graphics for social media, produced by Attendance Works and The Connecticut State Department of Education, captioned with suggested messaging. Download the social graphics individually by clicking their respective titles, or click this link to download all the graphics in a zipped file.
Attendance Works' 2021 Attendance Social Media
---
Mentors & Attendance
---
Mentors have a big role to play in promoting academic success and attendance! Mentors can help young people stay on track in school and reap the benefits of routine attendance. If you'd like to become a mentor, sign up at bit.ly/mentorct.
Help spread the word about the importance of mentoring in helping reduces chronic absence and promote positive outcomes for our young people - share these messages on social media:
Fact: Students who miss fewer than nine days of school per year are more likely to graduate high school and enroll in college. Mentors help students stay on track and build a more successful future!
As students head back to school, attendance has never been more important with so much lost learning over the past year. As a mentor, you can make the difference between a child falling further behind or staying on track to graduate and move on to college!
By sixth grade, chronic absence becomes a leading indicator that a student will drop out of school. After the disruptions caused by the pandemic, it's more important than ever for students to stay on track. Mentors can make the difference! 
Strong relationships with caring adults are key to keeping students and families engaged in schools. When children have mentors, they are more likely to avoid chronic absence, graduate high school, and go on to college! 
Just 2 missed days of school per month can derail a student's ability to graduate. Mentors help young people stay on track by reducing chronic absenteeism and preparing them for a successful future!
---
Keeping Schools Healthy
---
COVID-19 vaccines and boosters are the most effective tool to keep schools open and safe.
Here are some resources that you can use to encourage students in your life to get vaccinated and combat vaccine misinformation:
VaxTeen communicates directly with teenagers to counter the dangerous tide of misinformation, encouraging teens to find out what immunizations they need and how they can get them.
 CDC, COVID-19 Vaccines for Children and Teens
CDC recommends COVID-19 vaccines for everyone six months and older and boosters for everyone five years and older, if eligible. You can learn if and when your child or teen can get boosters to stay up to date with their COVID-19 vaccines with the CDC COVID-19 Booster Tool.
 Browse Common Sense Education's K-12 content concerning supporting students in recognizing and combating misinformation.