February 2016
Sixth National Mentoring Summit 2016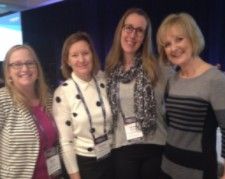 More than 1,000 sponsors, mentoring professionals, businesses and foundations gathered on January 27-29, 2016 at the Renaissance Hotel in Washington, DC for the sixth annual National Mentoring Summit. In spite of a major snowstorm in the capital city two days before, nothing deterred participants from attending.
The chosen theme, Mentoring:  Connection, Growth, and Opportunity. On Thursday morning the conference kicked off with Grammy Award winning artist, Patti Austin who sang her ode to mentoring – "Over My Shoulder".  Austin shared her personal story about being mentored and the important role of adults in every community who mentor youth. It was a highlight of the morning.   
The Summit offered more than sixty concurrent workshops for individuals that are new, experienced or advanced in their skill levels of mentoring. Topics ranged from national challenges, innovations, advocacy, research, and specific youth populations. 
A team that included the Governor's Prevention Partnership; State of Connecticut Court Support Services Division; Boys and Girls Club of New Haven; Klingberg Family Centers, and Family Reentry presented a workshop entitled: Serving Today's Youth in the Juvenile Justice System.  More than 70 participants attended and learned about the best practices of this program in Connecticut.  Among those in attendance was Robert Listenbee, Administrator from the Office of Juvenile Justice and Delinquency Prevention.
The Governor's Prevention Partnership looks forward to using the knowledge gained from the National Mentoring Summit. Staff will continue to provide you with outstanding mentoring resources here in Connecticut.
SAVE THE DATE….2017 National Mentoring Summit. The seventh annual National Mentoring Summit will take place on February 1-3, 2017 at the Renaissance Hotel in Washington, D.C. Note this is a shift from January to February for the event next year.
(Hannah Granfield, Program Manager – Training and Technical Assistance for the Partnership contributed her thoughts for this article).