June 2017
Program Spotlight – SADD (Students Against Destructive Decisions) SPEAKs: A National Opportunity to Focus on a Local Issue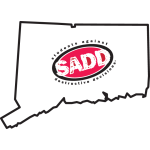 In 2016, Jozzlynn Lewis, President of the Putnam High School SADD Chapter was accepted into SADD SPEAKs (Students for Policy, Education, Advocacy and Knowledge).  SPEAKs is a leadership and advocacy training program from SADD (Students Against Destructive Decisions), focused on teen traffic safety.  The program is for high school students who are active members of their school's SADD Chapter.  They apply through a competitive process and only fifteen students from across the United States are accepted each year.  Accepted students then participate in the year long program, beginning with an online training focusing on public speaking, advocacy skills and coalition building.  During the summer, SPEAKs members spend four days in Washington, D.C. where they meet with leaders of national organizations and Congressional staff, and members of their own Congressional delegation to discuss issues related to impaired driving and teen traffic safety.  The last step in their trip is to hold a briefing for Congressional staff on impaired driving and teens. 
The work then continues at home where the teens spend the school year focused on a local platform related to impaired driving. For Jozzlynn, this meant working closely with her SADD Chapter and local coalition, Putnam PRIDE (Partnership to Reduce the Influence of Drugs for Everyone).  Jozzlynn provided a critical youth voice from the perspective of someone seeing the issue and its impact first hand.  Using the skills she learned through SPEAKs, she worked to educate members of the community and to bring in additional members of the coalition.  Jozzlynn's outreach efforts included State Senator Mae Flexer, an important voice at the State level. 
In 2017 Doria Daviau, also from Putnam High School, was selected for SADD SPEAKs and will work on her own platform in the coming year.  While SPEAKs is a competitive national program, local coalitions and organizations focused on substance abuse prevention can use the same model to work locally. 
Identify the specific issues in your community that you want to address. 
Engage interested students and adults to address the issues. Educate them on the issues and on public speaking and advocacy. 
Work together to develop a local plan to address the identified issues that engages local leaders, elected officials at the town and state levels, and other key members of your community. 
As SADD SPEAKs demonstrates, a small group of people working together to address an issue can make a big difference.  
The Governor's Prevention Partnership serves as the Commecticut State Coordinator for SADD.  Partnership staff can help you to start a new SADD Chapter in your school or organization, or help you to implement new activities with your existing chapters.  We are also available to support coalitions, youth groups, and other organizations in their collaborative efforts to reduce substance abuse in their communities.  For more information, please contact Monique Price-Taylor at Monique.Price-Taylor@PreventionWorksCT.org or (860) 757-3592.