Introduction

Talk to your Children; Talk to Us
Thursday, September 21, 2017 4:30 pm - 6:15 pm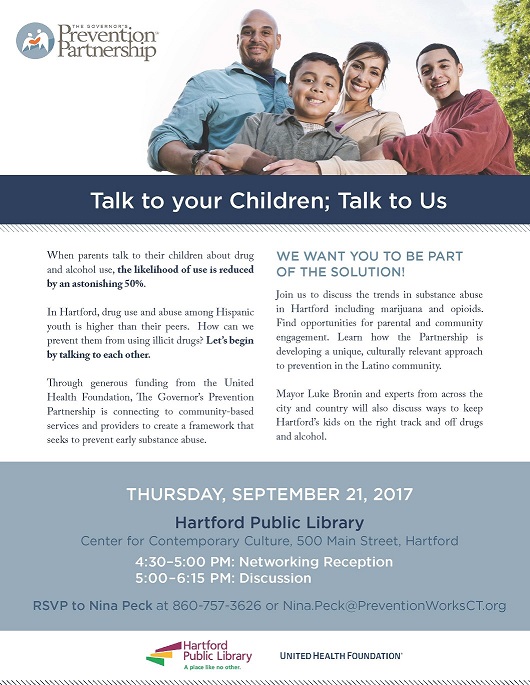 Location:
Hartford Public Library
Description:
When parents talk to their children about drug and alcohol use, the likelihood of use is reduced by an astonishing 50%.

In Hartford, drug use and abuse among Hispanic youth is higher than their peers. How can we prevent them from using illicit drugs? Let's begin by talking to each other.

Through generous funding from the United Health Foundation, The Governor's Prevention Partnership is connecting to community-based services and providers to create a framework that seeks to prevent early substance abuse.



WE WANT YOU TO BE PART OF THE SOLUTION!

Join us to discuss trends in substance abuse in Hartford including marijuana and opioids. Find opportunities for parental and community engagement. Learn how the Partnership is developing a unique, culturally relevant approach to prevention in the Latino community.

Mayor Luke Bronin and experts from across the city and country will also discuss ways to keep Hartford's kids on the right track and off drugs and alcohol.

4:30-5:00 PM: Networking Reception
5:00-6:15 PM: Discussion

Hartford Public Library
Center for Contemporary Culture, 500 Main Street, Hartford
This form stopped accepting submissions on September 21, 2017 4:30 pm EDT.